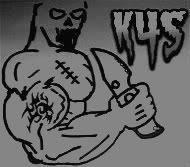 Knife 4 Street Book
available from Cafepress!
This book is part 1 of the Knife 4 Street series and it focuses on our knife combat curriculum.
Over 50 pages in wire-o binding so that you can leave it open on a particular page as you train.
This book covers street knife combat, Knifeboxing, stick fighting relevance, Kerambit truths, grappling with the knife and more! Contains lots of pictures.
I published this book back in 2007 because I found my knife combat system to be extremely beneficial and know that it would serve the public.
I created this style because I had a dangerous job and I lived in a bad neighborhood. This style was born of necessity.
For 2008 I revised the book because through my teaching experience I was able to make a much nicer and clear package.
And now for 2010 I completely rewrote the book, just focusing on one thing.
Presenting to you a blue print on knife combat.
I'm not trying to cover everything or sound cool. I tell it like it is. No nonsense, no bull crap.
These are my personal tried and tested methods, valuable findings through my own experience that I've developed through hard work. Your getting it from the source.
Thank you for your interest and I hope this book serves you well
-Wampire